Please watch this video about my LittleRedBunny Academy.
To learn more about my Academy CLICK HERE.
(October, 2022) "LittleRedBunny – Jasmin Model Interview" Life In Red
Here is a video interview I did with LifeInRed where I discuss the skills I've used as an cam artist, my approach, building friendships online and many other topics that get to the heart of who I am. Check it out HERE.
(March 18, 2020) "Looking Back and Hopping Forward with LittleRedBunny" Payout Magazine V 10.1

Mike from Payout Magazine asked me to give a little recap of what I've been up to and what I have going on for 2020. Check out the full article on pages 8 & 9 HERE.

(March 18, 2020) "Sex with Strangers" Podcast Episode 51: Sex with Cam Girls
Here is a podcast I did with Chris Sowa for "Sex with Strangers." It also includes an interview with my longtime member and friend David. Please give a listen HERE or click the picture above.
(Now 19, 2019) "The Most Daring Red Carpet Looks Red Carpet Looks of All Time" Entertainment Tonight Online

(Aug 8, 2019) Men's Health "Here's How Porn Stars Want You to Talk to Them Online"
I did a short interview with Men's Health and have a little part in an article about the best way to talk to adult performers online. Check out the full article HERE.
(July 19, 2019) YNOT.com

Here is a brief recap from YNOT News about my events at the AW Summit in Romania, including my second annual Hoppy Hour and my second Spotlight Awards. Check out the story HERE.
(July 19, 2019) AW News

Here is a recap from AW News about my events at the AW Summit in Romania, including my second annual Hoppy Hour and my second Spotlight Awards. Check out the full press release HERE.
(June 1, 2019) CamLife Magazine
I have a new article in Cam Life Magazine that is more in-depth and intimate than has ever been released about me before, plus I'm also in the Industry's TOP 50 INFLUENCERS for the second year in a row. Go check out my post about it with links to the articles and magazine HERE.
(Mar 15, 2019) Planete Live 
Planete Live asked me to write a story for them about me and my story (and stories). So please check out this in-depth story about LittleRedBunny written by Ophelia Marcus (me) which spans the beginnings of my career on cam to my current goals and projects. I discuss my first days on cam, how I grew as an entertainer, made friends online and at events, won awards, began my travels around the globe and what my plans for the future as a business woman are (Like my Academy and Camology, "The Art of Camming"). I even pay special homage to some of the amazing and important people I have had the pleasure to cross paths with and helped me grow as a person and personality. I hope you enjoy it!
(Dec 30, 2018) Cam Advisor
This article from Ukrainian magazine Cam Advisor, goes a little more in-depth about my Academy, its philosophy, some tips about performing and what I see in the future of the industry. It really shows more about my business side and why I started the Academy, and it gives a little more insight into who I am and why I am doing the Academy.
(Dec 25, 2018) Cam Life Magazine 2018 Cam Performer Awards

I am so honored to be name Cam Life Magazine's Icon of the Year for 2018. Plus they said some very nice things about me in the description. To see the full article click HERE or the picture above.
(Oct 12, 2018) Daily Beast "The Queen of the Camgirls Tells All"
I had the pleasure to sit down with Aurora Snow and do another article for the Daily Beast Article about making connections with people across the globe among other things. Check it out by clicking the picture above or click HERE.
(July 11, 2018) "CamLife Magazine's Top 25 Influencers"
I am so surprised and honored to be named among the top 25 influencers in the adult webcam industry. I am very humbled to make the list, especially among some of the most respected people in the industry. I'm especially proud to call many of these wonderful people my friends!
(July 3, 2018) Webcam News "The LittleRedBunny That Keeps Going And Going And…"
A nice long interview with the wonderful Irinia from Webcam News. We discuss some new topics and you can learn a little more about me, and my LittleRedBunny Academy project that I've been working on the last few years.
(February 2018) CamLife Magazine Issue #2
I'm so honored and excited to be on the double cover of the second issue of Cam Life Magazine! There is also an exclusive interview with me (page 68) done by Bender Cain and it contains several revealing pics of me. I also reveal a few things you may not know about me and my time camming, and what my New Year's resolution is. This is a new, and really cool magazine, filled with all kinds of topics about the adult camming industry, models, and industry pioneers and icons.
Grab your print copy here:
www.peecho.com
Grab your digital copy here:
https://payhip.com
(March 31, 2016) "France2 TV Envoyé Spécial"
https://vimeo.com/184634839
(My part of the special starts at 17:22, the whole camgirl story starts at the 1:30 minute mark.)
When I was in Las Vegas for the AVN Awards and Adult Webcam Awards, I was followed by a documentary crew from France2 TV for a few days. They were doing a story about the webcam industry and wanted to follow a day (or three) in the life of a cam model attending an event. You get to see some behind the scenes action of me preparing for and going on a photo shoot, broadcasting online live from my hotel room and a few other surprises.
The whole thing is in French so for those of you who don't speak it you may not understand too much, and I haven't found a version with subtitles yet, so sorry about that. But at least you get to see a little of what goes on when I'm traveling at events and awards.
Enjoy! xx, O
(February 5, 2017) "Jiggy Jaguar AVN Interview"
One of several video interviews I did on my first day at AEE/AVN in Las Vegas
(February 4, 2017) "88MilesWest at Adult Entertainment Expo Interview"
This is my second interview with 88MilesWest's Chad Cooper, who is a great guy and so fun to talk with!
(January 23, 2017) "9 Porn Stars React to the 50 Shades Darker Trailer"
This was just a quick, impromptu interview with Cosmopolitan and my reaction to watching the trailer for 50 Shades Darker. My response was pretty blunt and to the point. Lol
(Novermber 21, 2016) "LittleRedBunny: The Empress of Cam"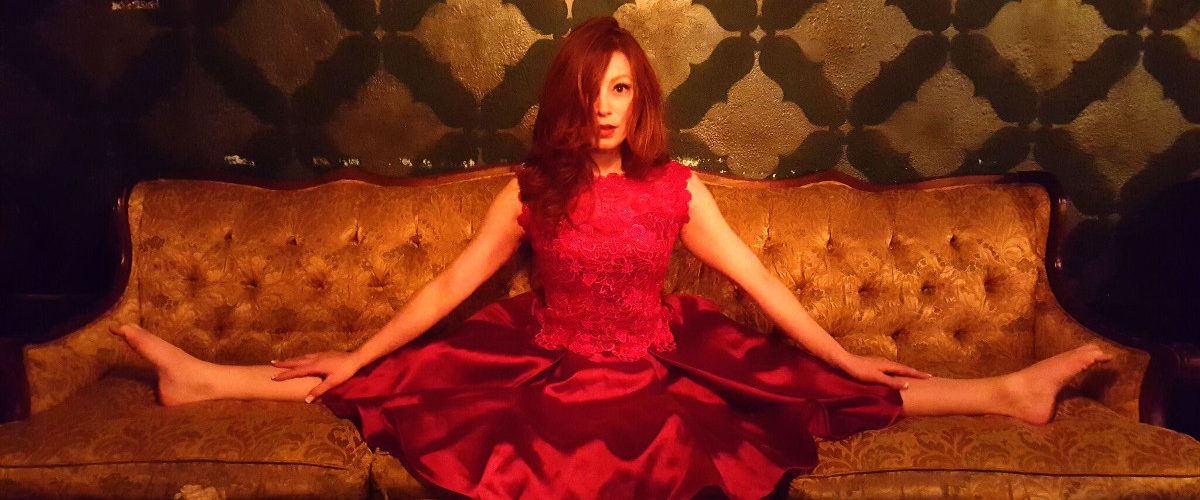 Here is a little interview with my insight on some tips, tricks and tactics for camming. I really enjoyed working with Erika Chan from YNOT CAM on this one!
(October 19, 2016) "Interview with amazing LittleRedBunny"
 Check out this nice little interview with AW News giving a little insight into my camming career.
(February 22, 2016) "Profile of an Award Winning Camgirl"
 I recently did an interview for ShaddyShow.com with Amroth de Nimroede that digs a little deeper into my professional and personal life, as well as all the great people who were kind enough to vote me for all my awards.
You can click on the above and below images to see an enlarged photo you can read or you can register on his site (which is quick, easy and free, and its a great community site) to see the interview and the full edition of the magazine.
 (January 12, 2016) "Talking with the LittleRedBunny"
Would you like to learn a little more about why I do what I do in my little speakeasy room on Jasmin? Well Thomas and Jay from Porn and Coffee asked me just that and many other questions for their weekly podcast. I had a great time talking with them and hope you will enjoy listening to me talk (probably too much, lol) about my social media skills (or lack thereof) and the best way to get to know me better in my room, among other things. So grab a cup of joe, or something stronger, and click HERE to listen to my full Porn and Coffee interview! xx, O
(October 1, 2015) "The Sex Files: Interview with web performer LittleRedBunny"
I recently had a nice Q&A with Ralph Greco from New York City-based website ShortandsweetNYC for their Sex column. I hope you enjoy another little peek into what you may expect from me in private and what I have cumming up in the near future.
xx, O
(August 20, 2015) "Le Business Des Camgirls Aux Rayons X"
Emmanelle Andreani-Facchin did an interview with me for GQ France about camgirls and how I got started working in the business. They even used a picture Roger Kisby took of me from our photo shoot in Las Vegas. The article is in French and I don't have an English version, but if you don't get an auto-translate option, right click on the article and hit "Translate to English" and you will get to read a basic translation of it.
(February 22nd, 2015) – "Interview: LittleRedBunny – Whiskey, Beauty & Sophistication"
Joseph Viney from the online magazine BaDoink, just posted his interview with me from right after I got back from the AVNs. He was such a great interviewer too. He was so easy to talk to and I loved this from him:
"It's not difficult to see just why Bunny is so respected and revered by her fans and the community at large. Bunny offers more than a simple and overdone striptease followed by the usual stylistic visitations. Where others may perform via the usual methods and tricks, Bunny approaches both her work, her lifestyle and fans with the same approach. It's one that combines her love of "old music, vintage furniture, dance, yoga, eroticism, and art" with a sexual energy that crackles and sparks whenever Bunny is in the line of sight."
We talked about so much more, including good whiskey and old time music, so check it out by clicking the picture. I'm looking forward to meeting the BoDoink people again at the Live Cam Awards coming up very soon.
 (May 1st, 2015) – Refinery29 National Masturbation Month
I know its a little late, but back in May, Refinery29 did a series of videos for National Masturbation Month and they included yours truly. The first one above is different names women call masturbation. The second video below, you get to hear a very personal story about the first time I, well, watch the video and find out
Also, please feel free to like, share, and comment on the videos because I'm happy to share them with you
xx -O
(March 28th, 2015) – Now Part Of History
Woot, woot! I now have a entry on Wikipedia. Check it out.
(March 10th, 2015) – "Little Red Bunny "Most private meetings that I have as a 'cam-girl' is not sex"
While in Barcelona for the Live Cam Awards, Àlex Gutiérrez interviewed me for the regional news site ARA.cat. The original article is in Catalan, but if you click on the picture above, you can see a Google Translate version of it. As a bonus, the picture they used in the original article is HERE
(March 6th, 2015) – "The porn industry has been pounded by the rise of internet tube sites – has it now gone limp?"
Tim Walker talks with me about web cams in his article on the Independent about the changing realities of the Adult Entertainment business.
(January 30th, 2015) – "88MileWest Video Interview"
Chad Cooper for 88MilesWest did a video interview with me at the Jasmin booth at the AVN Awards. Someone accidentally turned the lights out in the convention in the middle of it, lol.
(January 23rd, 2015) – "A Day at the Porn Convention"
Mark Shrayber for Jezebel gave me a minor mention in his article about his visit to the AVN Convention.
(February 22nd, 2015) – "An Interview With The Drake Of Porn"
Charisma Madarang from the online site 7DeadlyMag.com interviewed me Saturday night at the Convention and now has posted her article. Joining her was the well known photographer Phillip Reardon.
Charisma and Phil were nice to meet and to talk to (even though I was nervous while getting ready for the AVN red carpet lol) They did great work, both the writing and the photos. I am so happy, and can't wait to meet them again when I will go to LA next time
Charisma was the sweetest person and I really like her approach, and Phil is an amazing photographer too!
(February 18th, 2015) – "25 Intimate Portraits Show Porn Performers Off-Duty"
Speaking of photographers, I am so honored that the celebrated artist Roger Kisby, who visited the AVNs for the first time this year, decided to include me in his "25 Intimate Portraits Show Porn Performers Off-Duty". I am Number 21.
Roger took that pic of my head shot (which was the 1st thing I did in my 1st hours being awake
lol) but then came back that night for a few more pictures in my hotel room. The first one he has put up on his Instagram account is this.
Hopefully he will post more soon.
(January 22nd, 2015) – "Porn's new capitals: Romania and Colombia?"
Chris Morris of CNBC asks me on my thoughts about the growing globalization of webcams and the new "Capitals" of Porn.
Paul Tamburro over at CraveOnline includes Webcamming (with LittleRedMe as an example, lol) of the growing business online.
(December 22nd, 2014) – "What You Don't Know About – Webcam Girls"
MadeMan.com posted Steve Mazzucchi's recent Interview With Me to their website. It made the "Entertainment" section's main page as a featured story too!
It really is the best Christmas present a LittleRedBunny can have.
Steve did such a great job of interviewing me and MadeMan.com put together a amazing video, part interview, part web clips of me. Be sure to check it out. You will love it I'm sure. I did. They asked some interesting questions and I hope you enjoy my answers.
And I got to use my new microphone so the sound is clear and clean.
(December 12th, 2014) – "Bunny on PeeperZ Radio"
Check this out everyone, MD over on PeeperZ.com did a half hour radio interview with me recently.
(Click the picture to hear the interview.)
Sorry, I gave the interview before I upgraded my webcam microphone, so my voice isn't the best, but he was a great interviewer and let me open up and have some fun. Let me know what you think and feel free to suggest question for our next interview after the AVNs.
The main page info is here: "Down the Rabbit Hole with Little Red Bunny – Peeperz Radio". Be sure to drop by that page and leave a comment, they did a great write up on me and the radio interview.
(December 12th, 2014) – A Twofer This Time
Two new online news interviews this week. The first over on NextShark.com
Its a good article except (rolls her eyes), I do not make anywhere near that money. I wish interviewers would learn that.
The second article this week is from the Croatian website Index Black
You might need to hit Goggle Translate, the article is in Croatian.
(December 2nd, 2014) – "Offering Some Advice"
Aly Walansky over at UK.AskMen.com, asked me for some advice on "Long Distance Sex" and how to keep things hopping between people when they are apart.
(November 29th, 2014) – "Two New Ones"
Here are two webthings about me, the first being a video documentary I'm in on the Swiss television channel Radio Television Suisse titled "Profession – Camgirl".
Its in french for my European fans and my part begins at around 7:30.
Even if you don't understand french, its still worth watching…(sexy grin). I'm wearing a very cute outfit.
The second is a a short blog post about me on the SDXCams Blog.
(November 16th, 2014) – "Interview For The LiveCamAwards Website"
In March of 2015, I will be attending the LiveCam Awards in Barcelona, Spain, as a "Special Red Carpet Guest". Alexandra Georgia, cam model, fetish diva and LiveCam Awards Convention Chairwoman, interviewed me for their website. And LOOK!!!, they used me on their site logo. Check it out.
(October 28th, 2014) – "This Is What It's Actually Like To Work As A Female Pornstar"
Want to know what its like to work as a pornstar? Richard James over at the website "Buzzfeed" interview five of us for his article "This Is What It's Actually Like To Work As A Female Pornstar". Let me know what you thought of it.
(October 1st, 2014) – "How To Look Good Naked"
Want to know my secret to being beautiful? Aly Walansky gets some tips from a few adult stars in her article at the "Daily Makeover" titled "How To Look Good Naked"
(September 18th, 2014) – "Who Is LittleRedBunny?"
Dan C. over at the website "Die Screaming" did an article on me titled "Who Is LittleRedBunny". Check it out.
(August 15th, 2014) – "Inside the Life of Webcam Girls: LittleRedBunny"
Paul Carmino Tamburro interviewed me for CraveOnline. Check it out, its a wonderful interview, very intimate and revealing. He was so nice.
(August 14th, 2014) – "3 Days at Camming Con"
EJ Dickson with "The Daily Dot" did a great article on CammingCon, check it out. Very behind the scenes, just like you had been there too. We chatted for a bit and she writes about me in the "Day Two" section.
(August 6th, 2014) – "Quit Your Day Job: Top Cam Girls Are Earning Around $1 Million Per Year"
For the record, I don't make anywhere near that much LOL but if I was that rich I'd be like my best friend.
(August 4th, 2014) – "Little Red Bunny, Queen of Cam Girls, Comes to South Florida"
Allie Conti at the Broward Palm Beach New Times.
(August 1st, 2014) – "More About CammingCon"
Kelly Hurcomb does a piece for AskMen.com about CammingCon.
(July 28th, 2014) – "Webcam Star LittleRedBunny Heading to Miami for CammingCon"
A short press release and comments on AdultWebmasters.
(July 28th, 2014) – "Webcam Sensation LittleRedBunny to Headline CammingCon"
KammReed over on Peace, Canada's Street Style Magazine Online, has a nice article on me and CammingCon. Check it out.
Hope to see you there, and if not, be sure to stop by next week. Join me in my private room then and I'll tell you about all the fun you missed, the wild parties I attended and gorgeous Camgirls who were there.
And don't miss out on the great August special being offered through my Jasmin Affiliate Link Here.
(July 22nd, 2014) – "Webcam Girls and Their Diehard Fans Flocking to Miami for Largest-Ever Camming Convention"
Here is a wonderful article by Jordyn Taylor on BetaBeat about the new Camming Con convention (click Here to find out more about the Convention)
Two photos of me in the article, woot!woot!, plus a short interview.
I hope you can attend. And if not, I'll be posting loads of pictures while I'm there to the LittleRedBunny Twitter Feed. Look for them and be sure to let me know what you think. I will also be speaking at the "Best Pics = More Click" panel along with other industry leaders that afternoon at 2pm.
I'm looking forward to a lot of fun.
(March 29th, 2014) – "LittleRedBunny, the most successful and erotic "camgirl" World"
Another one, lol.
(March 2nd, 2014) – The Daily Beast: "Meet LittleRedBunny, Queen of the Cam Girls"
Richard Abowitz did a great article on me for "The Daily Beast". Its very informative, so if you want to know more about the lady behind the little white bunny tail , just click the picture to view the article.
Be sure to leave a comment please.
LittleRedBunny
(March 4th, 2014) – Ekstra Bladet: "Here is the World's Best Webcam Girl"
Another article, this one in Danish.
(March 3rd, 2014) – "LittleRedBunny, the world's most famous sexy camgirl: $ 7 per minute to view"
Even the Italians have noticed, lol…
(March 3rd, 2014) – "LittleRedBunny And The Secret World Of Cam Girls – Making Money At Home In Front Of A Webcam"
Glynn Roth wrote this.
(March 3rd, 2014) – PlayGroundMag.Net: "The Webcams are the Future of Sex and LittleRedBunny is the Queen of Business"
Titus Pullo did a nice article on me here (in Spanish).
(January 18th, 2014) – AVN Interview on VividRadio
The radio show was hosted by Paul Fishbein, who created the Sex Award. Big Hugs to Paul!
We talk about alot of things. It was loads of fun.
(January 1st, 2014) – "The Sex Awards – My Acceptance Speech!!!"